En Fuego!
This happened last week, and is reason #3,453,098,958 why I no longer take the 101 to work: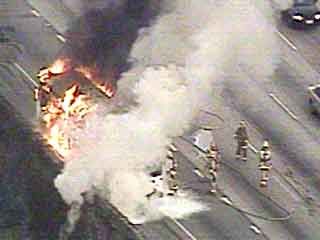 I have to admit that the sight of my enemy, the MTA Bus, burning to the ground is not an unwelcome one. And since no one was hurt in the fire, I can even laugh long and heartily. HA! HA! HA!
Apparently the cause of the fire was some sort of mechanical error. I wonder if the MTA called Mr. Accidentes about their legal options?
The news story can be found
here
, which includes a slideshow of bus fire pictures, and notes that although the fire was on the southbound side of the highway, traffic on the northbound side was also affected due, in part, to "spectator traffic." Jesus Christ people, have you never seen a burning bus before? Don't you have to be at work in a timely fashion? BECAUSE I DO. MOVE IT.