I Am Skating On Sunday!
I'll be playing in my second Baby Doll Brawl this Sunday! My team is the ICE VIXENS. Note that a
certain someone
is playing for some team called Hell's Belles. Ugh. The ICE VIXENS are where it's at!
That's me at 0:37 getting hit into a rail during the last bout! I'm sure it'll happen again this time, so if you want to see the non-stop Sara-crushing action, the Doll Factory is the place to be this Sunday at 3!
Here are more details that someone else wrote up to make my life that much easier: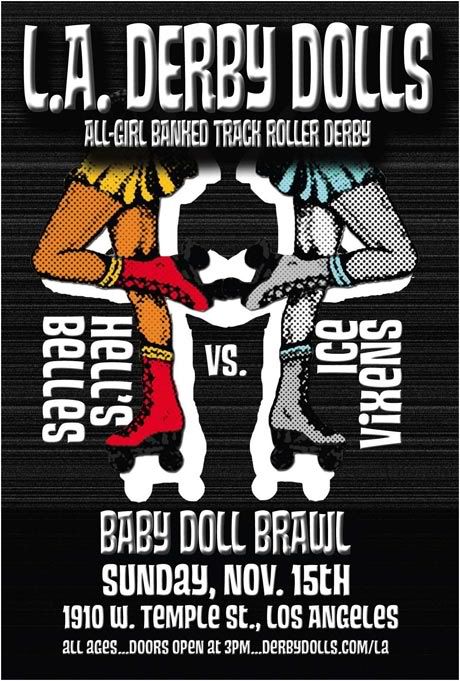 Watch the Live Feed -- Sunday, November 15th, 3pm Pacific -- RIGHT HERE.
-OR-
Buy Tickets HERE to come see the action LIVE!
Bring the whole family to the Factory on Sunday for the bi-annual Baby Doll Brawl. This daytime, all-ages event is an exhibition bout for the league's newest skaters and notorious for the most gruesome hits. Scope out the up-and-comers before they're drafted – this is your sneak preview of the 2010 season! Don't miss the half-time mini-bout featuring pint-sized skaters from the L.A. Junior Derby Dolls.
Fans will be rocking and rolling to bass n' drum rock duo Evil Beaver, who will perform at halftime. Derby Dolls events offer a full range of entertainment off the track, with the Vendor Village featuring art, jewelry and clothes, food from Garage Pizza and Hot Dog on a Stick; wine from Paso Creek; beer from Tecate and Alex's Bar.
The L.A. Derby Dolls are one of only five leagues in the U.S. playing roller derby on a banked track. Like most modern female roller derby leagues, the Derby Dolls are volunteer-run and give back to the community that has embraced them.
Labels: I win?