The Survivor Premiere Party
I finally got the pictures up. Without further ado, I present to you the
Survivor
Premiere Party!
It was held at Gotham Hall on the Third Street Promenade in Santa Monica. Pretty swanky.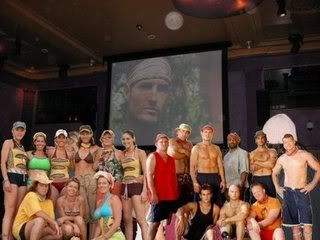 We thought that the party would be crew only. Boy were we surprised when the ENTIRE cast of the show arrived! Here they all are posing in front of one of the TVs.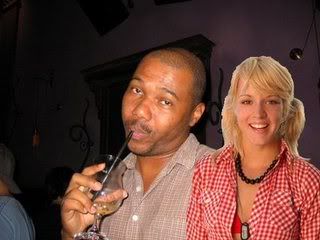 Sean quickly took Dolly aside to show her his party trick: he can suck through a straw from the side of his mouth. Dolly wasn't too impressed.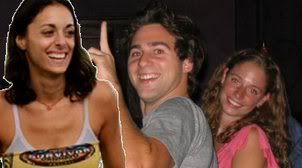 Joe and Emily were pretty excited when Eliza came over to talk to them.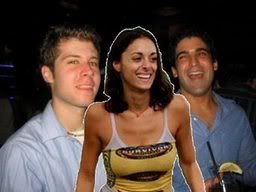 So were Jake and Guillermo.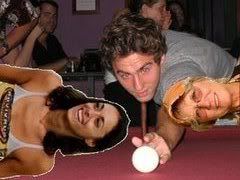 As the party wore on, however, and Eliza got a couple drinks into her, she started getting really annoying. Here she, with Yasur tribemate Scout, interrupt Joe's pool game.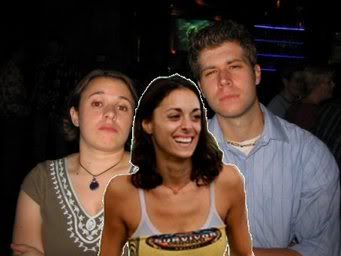 When she started trying to mess with Jake and me, we told her she was unwelcome.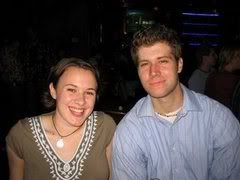 We were much happier when she left.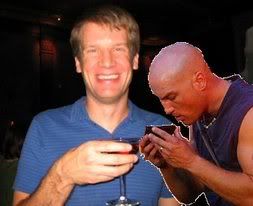 Eric didn't have to deal with Eliza because he and Chad were having a drinking contest. When Chad won, Eric asked him if he had some hollow leg that he put all that alcohol away in. Eric's faux pas made us all feel uncomfortable for the rest of the night.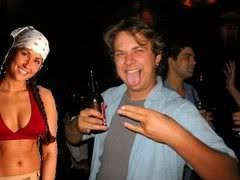 Another thing that made us uncomfortable was when Bill showed Julie what he would do to her if he had the chance. This picture was taken right before she turned around and smacked him.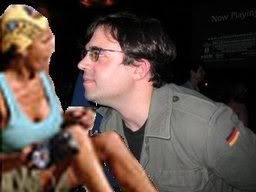 Oh, dear. After a few too many drinks, Ken's inhibitions dropped enough for him to ask Lisa the question that was on all our minds: are those real?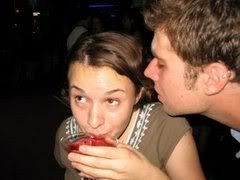 "Can you ask Twila out for me?" Jake asks.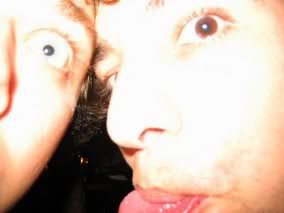 I'm not sure what happened here.
As the party was winding down and Steve and I posed for one last picture. Steve ducked down so I could look taller than him. But he still wasn't as short as
The Amazing Race
's Charla, who was very embarassed when she realized she was at the wrong show party.