I Have To Find A Way To Make This Happen
OMG.
The smallest country in the world is up for sale. I had no idea this place even existed, but apparently some crazy guy claimed a some manmade island off of England used during WWII as his own and then made it his own freaking country with the rather unoriginal name of "Sealand" and declared himself Prince (I don't know why he didn't go for King)! He then minted his own coins and made stamps! The balls on that guy!
Anyway, now his son, Prince Michael, is
selling the country
. I simply must find a way to own it so I can become a Princess. Or maybe I could bring sweet democracy to the citizens of Sealand. Nah, I'd much rather be a Princess.
Read more about Sealand's ridiculous history (including an invasion by scheming Dutch and German businessmen!)
here
.
Edited to add: holy crap, Sealand is
selling royal titles
! For about thirty-five dollars, I can become Lady Sara or Baroness Sara, which the website says I'll be able to use to get "VIP treatment and go to the front of the queue at important events,vimpress people and make friends, get invited to all important parties, secure the best tables in restaurants, get upgrades on flights," and, possibly best of all, "make co-workers jealous." I can even "demand the subservience of lesser mortals!" CAN YOU IMAGINE?!?!?!
Baroness Sara of Sealand (for it is she): Excuse me, Bouncer of Hyde, but I should like to enter your establishment now.
Bouncer of Hyde: You are not famous. You may not enter.
Baroness Sara of Sealand: BEHOLD! I AM A BARONESS!
Bouncer of Hyde: Of what?
Baroness Sara of Sealand: Of a country off the coast of England that conists of a metal fort perched atop two concrete towers.
Bouncer of Hyde: Oh, okay then.
And then I am allowed to enter the club! And I hate flying in coach. This is a wonderful solution to that:
HRH Baroness Lady Sara of Sealand: Hello, flight attendant. Please make available your finest seat in the business class section!
Flight Attendant: Uh, no.
HRH Baroness Lady Sara of Sealand: EXCUSE ME?!?! Don't you know who I am?!?!
Flight Attendant: Um ...
HRH Baroness Lady Sara of Sealand: I AM BOTH A BARONESS AND A LADY, AS I TOOK ADVANTAGE OF THE TWO-FOR-ONE ROYAL TITLE SPECIAL!
Flight Attendant: Oh, my bad. Please come to the front of the plane and take whichever business class seat you wish.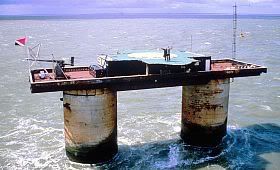 Glorious Sealand.
Labels: world domination