Good News First
Remember those ads I used to have on the right-hand side of the page? Well, my wonderful awesome readers, you clicked on them enough to raise $137.25! I got the check last month and then, as promised, sent it out to the Jamie A. Hulley Fund for the Arts. Here is the front of the card I got back, which belongs to all of you so you should see it: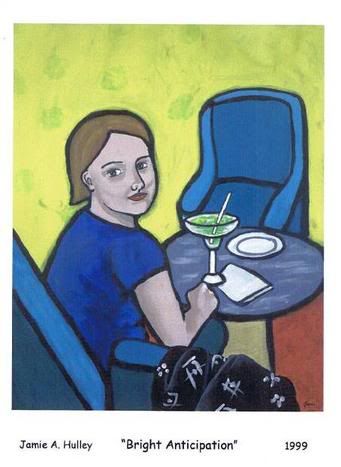 Inside, it says:
"Thank you for your generous support of the Jamie A. Hulley Fund for the Arts. It is our hope that Jamie's joyous and innovative spirit will continue its celebration of life through the works of other young artists." Yay!
A few days after sending out the check, the ad people emailed me to say that they determined that I had been generating fake clicks for the ads on my page and so were terminating my account. I asked them for proof of my fake-click-generating, but they said that their algorithms were far too complex for me to understand. Algorithms, my ass! My guess is that it came down to simple mathematics:
Lots of $$$ from sponsors - $$$ paid out to Sara = not as much $$$ for Google Adsense staff.
Ah, well -- I'm thrilled that we raised what we did. Thank you thank you thank you to everyone who clicked on those ads!